Mission Statement:
"Building quality new homes in Spokane that families are proud to call home. Johnson Brothers relies on professional craftsmanship and over 20 years of experience in Spokane building beautiful new homes - New homes that bring years of enjoyment to its owners. 'We care about what we build,' says Clay Johnson. 'And we believe it shows in the end result."
____________________________________________
About Us
- Johnson Brothers has been building homes in Spokane since 1990. Both Clay and George are journeyman carpenters with over 60 years of combined experience in the construction industry. Far too often you find unqualified homebuilders in the industry since the State of Washington has no pre-qualification program to prevent this - "The buyer beware" - yet Johnson Brothers Construction has the knowledge and the experience to know quality since they have been in the trenches from
custom remodels
to commercial construction for over 20 years here in Spokane.
"We are hands on and we know quality construction, no matter the price range of the home," says Clay Johnson, co-owner. "We employ the best sub-contractors the Inland Northwest has to offer with many of them being with us for over twenty years."
____________________________________________
"I would recommend Johnson Brothers to anyone. They not only built us a beautiful home but they were so accommodating and good to work with",
The Morans of Spokane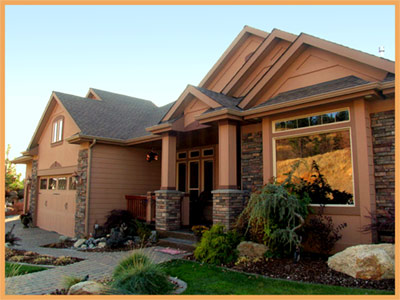 ____________________________________________
The Johnson Brothers are truly professional contractors working with their client's best interest in mind and they are used to working in professional environments. "We are also green certified builders," adds George Johnson, co-owner, "...and we specialize in geo-thermal and radiant heat systems along with other energy saving formats."
____________________________________________

Experienced - Knowledgeable - Professional

Custom Remodels - Testimonials - Sample Architectural Designs - General Specifications - About Us